We have moved!
July 21, 2015 - 2 minutes read
Friday, July 17th 2015 marks the day on which we moved into our new Zippr office. A nice functional space on the uppermost floor (6th) of the Mano Vrisa Towers, Madhapur ZPPR2727.
The move had been prompted by our decision to upgrade to a larger space as our various departments weren't in close proximity to each other furthermore we had other area related constraints. In looking at alternatives, we were delighted to have found an airy and naturally well lit office space, just next door to our previous location. The office itself is quite captivating, half of it being indoors and the remaining outdoors. Four big panoramic windows present us with all the natural light we can ask for and more, helping us reduce our carbon footprint greatly as sunlight entering is our primary source of illumination during the day. Venture out into the balcony and you'll be presented with an impressive view of the Madhapur Area which only progressively looks better as the Sun goes down. There is also no dearth of ventilation as being on the 6th floor we are subject to continuous winds.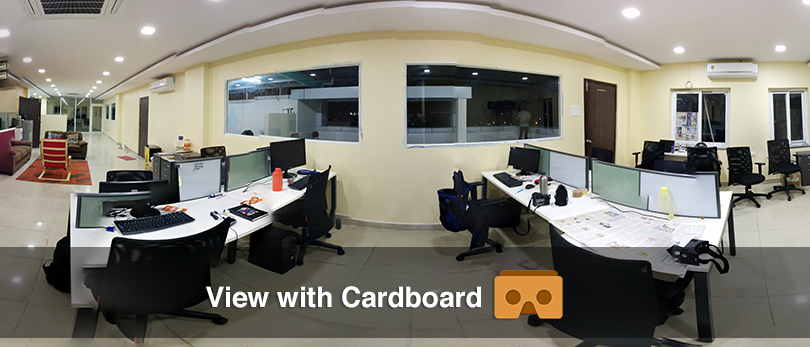 Perks of Zippr having it's own Centralized Office Space:
– A centralized office gives us the ability to encourage superior communication between all of us, improving the efficiency of operations across all depts.
– Productivity and brand development increase as a result of maintaining our staff at a single location.
Overhead costs substantially decrease.
– Improved coordination and cooperation amongst and within depts helps in smoother running and functioning of processes.
– Area wise, extra room = potential for extra strength.
All in all we are very excited to see what the future hold for us at this office and we look forward to more memories being made and more milestones being touched.
---
If you own a Google Cardboard or any other 3rd party VR viewers you can view our office in 360degrees VR and Panorama. Click here and download the images and view them via the Google Cardboard App.
Update: If you DO NOT OWN a Cardboard Viewer you can view these images in 360 on your desktop.